Graduating in the Age of Covid-19
29/10/2020
Cassandra Langenskiold
Had the more conventional methods of exhibiting still been available, maybe artists wouldn't have decided to take matters into their own hands and do it their way.
Covid-19 has certainly changed the landscape of the art world. Galleries, museums, and festivals are closing or rescheduling, budget cuts and layoffs threaten workers around the world, and physical spaces are scrambling to perfect their digital offerings. Within this chaos lies the art student, those graduating amidst the craziness of online classes, restricted studio spaces, and cancelled degree shows. 
As a recent graduate myself, I began to wonder how some of my fellow 2020 students were coping with the rules and regulations imposed by a national lockdown. Personally, my thesis topic was restricted and I had to rely on online archives rather than visiting museums, and my own graduation ceremony was postponed. I decided to talk to Tonnie, Karlijn, and Ratri, all members of Team MAMA, to ask about their own experiences as recent graduates of various fine art programmes in the Netherlands. Tonnie, a graduate of the Hogeschool voor de Kunsten Utrecht, and Karlijn and Ratri, both alumnis of the Willem de Kooning Academie, each had different experiences regarding their last few months of school and had interesting predictions for the future of their field.
For many fine arts students, degree shows are what it is all about; this is what the last few years build towards. Cancelling them meant that months, if not years, of hard work had to be compressed or modified completely in order to fit within the walls of their apartments and computer screens. Many students lost access to studio spaces which left them with no alternative but to work at home and some found themselves restricted to creating smaller scale work due to these new-found constraints. Karlijn, for instance, found herself having to change her original plans and paint on much smaller canvases. Many students also lacked the proper materials to make work at home or had to borrow technical equipment from their academies to use in their own spaces. Even mundane tasks also suddenly became unpredictable; though Ratri had the opportunity of working in her own studio, she lost access to the affordable printing facilities at WdKA, something she had previously taken for granted. Moreover, when it came time to submit their work for review, which would otherwise happen in-person, they found it difficult to capture the mood of their work. Instead of showcasing the actual canvas, drawing, or performance, video and photography had to be used to submit work that was ideally meant to be experienced in person by teachers and tutors. 

However, as Tonnie claims, it was also an opportunity to innovate; with limited spaces and reduced visitors, the adjusted formats of the upcoming degree shows mean that students have the opportunity of transcending the typical exhibition tropes and to come up with inventive displays and experiences. Karlijn also had the opportunity of participating in a show in Los Angeles, where her friends staged an exhibition in their own apartment. In her opinion, the Covid-19 situation provided them with an opportunity to do something different; had the more conventional methods of exhibiting still been available, maybe they wouldn't have decided to take matters into their own hands and do it their way. It is feasible, then, that lockdown not only allowed pan-Atlantic collaboration but shows that putting on a show doesn't have to be inaccessible.

Tonnie's work takes the form of a talk show where "little is said".
Possibly, the most significant change is the renewed sense of value of tangible spaces and environments. Clearly, online degree shows are lacking in relationship-building, interactions with the work, and a chance to experience art in the space it was made for. Face to face is key, especially when the whole purpose of having an 'art community' revolves around the people it contains. For Karlijn, this was also apparent while she was doing her internship; during her online lessons, she had to make sure she was providing valuable feedback through the screen; as physical demonstrations were out of the question, emphasising colour, shape, and form through the screen tended to be challenging. Luckily, as a student herself, Karlijn could use her own experience with distanced learning to keep her students engaged. These "e-tools" could also prove to be useful for Karlijn in the future, depending on whether schools and other institutions decide to implement remote teaching into their permanent strategies. But with their own teachers, all three expressed that there was a lack of support from teachers regarding employment opportunities after graduating and even a failure to communicate a strategy for an online degree show. Other teachers were simply not great with technology. But, ultimately, we can't forget that the sudden lockdown was challenging for our teachers as well, and schools had to make use of the resources they already had.

Karlijn published her work also as an e-book.
Undoubtedly, Covid-19 has cast a very bleak shadow on the art world. Students have lost exhibition opportunities, artists have lost residences, and smaller galleries are struggling to stay afloat financially. But, in Tonnie's view, the arts sector is going through some kind of movement; the industry is showing some resilience, as students show their work online, galleries set up cyber exhibitions, and museums offer full access to their digital offerings. Some museums are receiving 80% more traffic to their websites and smaller private galleries have also launched online viewing rooms. The microcosm that is the Internet provides us with the opportunity to stay connected; by breaking down physical and monetary barriers, people from all over the world now have more access than ever to the online offerings of museums and galleries, leading me to wonder whether this constitutes a shift towards a more approachable art industry. Many institutions have also found clever ways of making something positive come out of a serious situation. Nest, an art space based in the Hague, for instance, invited both BA and MA graduates from art academies all over the Netherlands to participate in a public exhibition in The Hague and Amsterdam. Moreover, the slowing down of the endless expansion, movement of money, and blockbuster exhibitions may lead to a more sustainable future for the art world, perhaps offering more opportunities to both artists and new artist spaces. The pandemic also forced us to reevaluate our concept of mindfulness; working in more flexible arrangements, dealing with loneliness, and prioritising self-care have become increasingly more important since lockdown began. These sentiments were echoed in MAMA's recent show, Fictioning Comfort, which focused on the idea of human and environmental exhaustion.
Maybe these extreme circumstances will lead to a heightened awareness of the struggles which are already on the minds of graduates, but even more amplified due to Covid-19. Hopefully, some of the changes we are seeing emerge now will stick; maybe this is a lesson for all of us about what we want to do as artists and graduates entering the art world. As Ratri said, "what is my impact going to be?". 
While they may not have had a graduation show, I wanted to celebrate Tonnie, Karlijn, and Ratri's talent by giving them a platform to showcase their work. Keep reading to learn more about Tonnie, Karlijn, and Ratri's own practices.
---
Tonnie Heijdra – Fine Art and Design in Education, HKU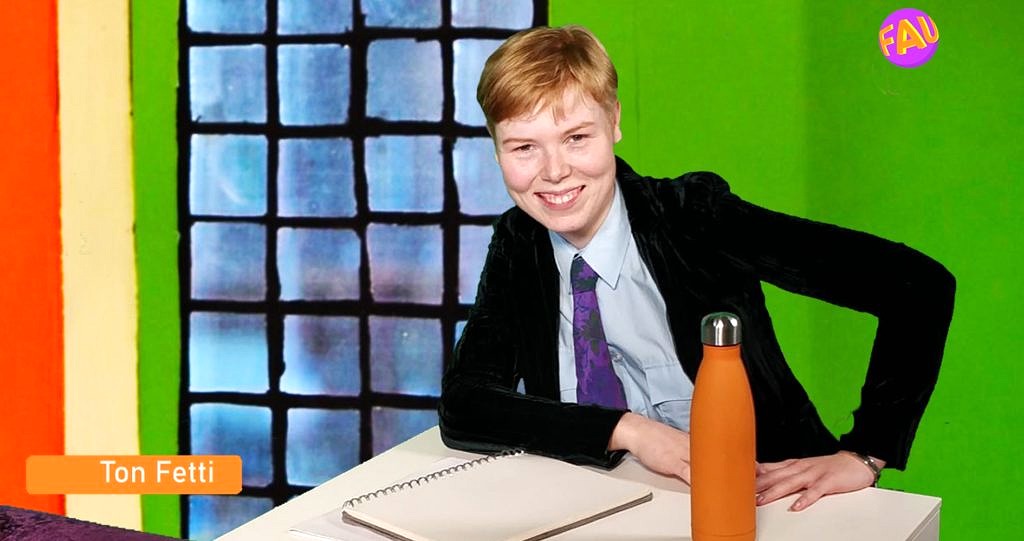 Tonnie's "art-that-cannot-be-described-without-describing-what-the-participant-does" takes the form of a talk show where "little is said", hosted by a character named Ton Fetti and a set of cardboard. In "alienating scenes that seem familiar", her work unveils the emptiness and meaningless embedded in the media we consume every day. In a time of 24-hour news cycles and minute-by-minute Covid-19 updates, Tonnie's work touches on the 2020 sentiment of news fatigue and parodies concrete media.
You can read more about Tonnie's work on the HKU Exposure website and look at her practice via her portfolio and the following video.
---
Karlijn de Lange – Fine Art and Design Teacher Training, WdKA
Karlijn's work explores art as a conduit for discussing and interpreting the imagination through dreams. Her project, titled The Untapped Imagination: How Dreams Can Stimulate Imagination Through Art, features a series of her paintings accompanied by texts suggesting discussion questions to be read alone or in group settings. The questions that she poses highlight the educational potential of art, portraying them as catalysts for investigating our imagination. Karlijn aims to "suggest a large phenomenal space into small physical space", claiming that "dreams … are technically accessible to everyone, yet unique to each individual".
You can read Karlijn's eBook and check her art on Instagram: k_art98_
---
Ratri Notosudirdjo – Fine Art, WdKA
Uuahib is a live performance of a tonal score constructed from the sounds of imagined symbols. Working with a group of 6 artists and musicians, the work attempts to interpret the symbols from a tapestry made by Ratri."We tried to think of ways to interpret the symbols and felt that bringing together an orchestral piece would communicate this abstract notion the best." Ratri also performed her work, Tributary, at Showroom MAMA in March during Museumnacht 010 for the Climate Knowledges exhibition. You can watch the performance here. 
You can attend the performance of Uuahib on the 16th of October at the Hilton Art Lab and read more about Ratri's work on her website.
---
References
Shehadi, S. (2020, March 23). How coronavirus is making virtual galleries go viral. New Statesman. Retrieved from https://www.newstatesman.com
Dickson, A. (2020, April 20). Bye bye, blockbusters: Can the art world adapt to Covid-19? The Guardian. Retrieved from https://www.theguardian.com
Pimentel, E. (2020, August 10). Covid-19 could have a lasting, positive impact on workplace culture. The Conversation. Retrieved from https://theconversation.com
This story was written by Cassandra Langenskiold with the contributions of Karlijn de Lange, Tonnie Heijdra and Ratri Notosudirdjo as a collective effort of Team MAMA members. Photographs are provided by the artists.
Related